Orchestral instruments are divided into 4 families: strings, woodwinds, brass and percussion. Orchestral music is scored by the composer so that the various instrumental parts are arranged in a particular manner.
Orchestral instruments are divided into 4 families: strings, woodwinds, brass and percussion. Orchestral music is scored by the composer so that the various instrumental parts are arranged in a particular manner.
Ridout's compositions, ranging from chamber music and symphonic pieces to scores for radio drama and film, are professional and tuneful (courtesy Canadian Music Centre).
Adaskin's compositions employ a highly personal neoclassical idiom, frequently using Canadian folk material (courtesy Nicholas Morant/Canadian Music Centre).
Freedman first won critical acclaim for his superb orchestration (courtesy Canadian Music Centre).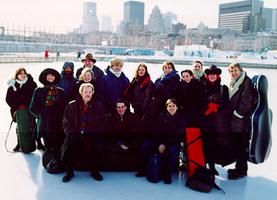 Somers's music is internationally respected and is performed throughout the Western world (courtesy André Leduc Assoc/Canadian Music Centre).
Orchestral Music
 Composers of orchestral music, though they often use a piano as a point of reference in the composing process, conceive their work in terms of the musical colours, timbres and textures available only in an orchestra, which is an ensemble that may vary in size from about 30 musicians to over 100.
Families of Instruments
Orchestral instruments are divided into 4 families: strings, woodwinds, brass and percussion. Orchestral music is scored by the composer so that the various instrumental parts are arranged in a particular manner. Each bar of the musical score consists of as many staves as there are instrumental parts. A standard orchestral full score indicates the instrumental parts in the following order, from top to bottom: piccolo, flutes, oboes, English horn, clarinets, bass clarinet, bassoons, double bassoon, horns, trumpets, trombones, tuba, timpani (and other percussion instruments), harp (if any), violins I, violins II, violas, solo voice(s) and chorus (if any), keyboard (if any), cellos and double bass. In concertos the solo instrument's music is usually placed immediately above the strings' music. Conductors read the full score while individual players are provided with their respective parts.
Orchestral music is composed in a variety of forms, the most common being symphony, concerto, overture, suite and tone poem, and its styles change from age to age and from composer to composer. However, many orchestral works, especially contemporary compositions, defy neat labels. Although the history of European-style music in Canada dates back to the time of the explorers, orchestral compositions by Canadians have been produced mainly in the 20th century. The 19th-century French-Canadian composer Calixa LAVALLÉE wrote a number of orchestral works, including 2 suites, one of which was performed in Paris in 1874. But these manuscripts, as well as those of some of his other works, are lost, and he is remembered primarily as the composer of "O Canada." The only Canadian orchestral work to be published before 1900 was Guillaume COUTURE's Rêverie, published by Girod soon after its performance in Paris in 1875.
Formation of Orchestras in Canada
A significant problem facing Canadian composers before the turn of the century was the lack of orchestras in this country. There were few permanent orchestras before the early years of the 20th century. In 1898 a Montreal Symphony Orchestra was formed that flourished for 20 consecutive seasons. A Halifax Symphony Orchestra, formed in 1897, lasted for several seasons. Vancouver, Regina, Winnipeg, Edmonton, Saskatoon, Moose Jaw and other cities had amateur orchestras before WWI. An orchestra was formed in Toronto in 1906, becoming in 1908 the first TORONTO SYMPHONY ORCHESTRA, which performed regularly until 1918. The oldest orchestra in Canada is the Société symphonique de Québec (1902), which changed its name in 1942 to ORCHESTRE SYMPHONIQUE DE QUÉBEC.
Ontario-born Clarence Lucas, one of the most prolific Canadian composers of orchestral music during this period, is credited with writing symphonies, symphonic poems, overtures, cantatas and several operas. Other composers of the early 20th century include Alexis CONTANT, C.A.E. HARRISS, Donald Heins and Rodolphe MATHIEU.
Composers
The period between the wars saw a greater number of Canadian orchestral works being composed, but they were usually short because Canadian orchestras, when they could be persuaded to perform Canadian works at all, placed them at the beginning of a program as "warm-up" pieces. Particularly notable are Claude CHAMPAGNE's Hercule et Omphale (1918), Ernest MACMILLAN's Concert Overture (1924), Healey WILLAN's Symphony No 1 in D minor (1936) and works by Colin McPhee and Percival PRICE. A few longer works were also composed, often as doctoral exercises.
The establishment of the CANADIAN BROADCASTING CORPORATION in 1936 and the NATIONAL FILM BOARD in 1939 provided Canadian composers with new opportunities and outlets for orchestral music. Both organizations were keen to use original Canadian music and began to commission composers to write music for radio and film. John WEINZWEIG, Louis APPLEBAUM and Eldon Rathburn were among the first of many composers to have works commissioned by these organizations. Similarly, dance companies were being established during the 1940s, and they too began to commission works by Canadian composers. Walter Kaufmann's Visages and Robert FLEMING's Chapter 13 were both commissioned by the Winnipeg Ballet in 1947. In 1949, 2 important works were commissioned: Jean PAPINEAU-COUTURE's Papotages/Tittle-Tattle for the Ballets Ruth Sorel of Montréal, and Weinzweig's Red Ear of Corn for the Boris Volkoff Canadian Ballet.
The CANADIAN LEAGUE OF COMPOSERS was formed in 1951 to promote the music and advance the professional interests of Canadian composers. Its 1957 Catalogue of Orchestral Music listed 233 works composed by Canadians between 1918 and 1957. The league was instrumental in setting up the CANADIAN MUSIC CENTRE in 1959. A nonprofit agency for the distribution and promotion of Canadian music in Canada and abroad, the CMC provides, among other services, a lending library of Canadian music. Though most Canadian orchestral works remain unpublished, copies are available through the CMC.
The commissioning of Canadian composers was given a major boost in 1957 with the establishment of the CANADA COUNCIL, a granting agency that provides funds to cover the composing and copying costs of commissions. Of 90 orchestral works sampled for the period 1968-1978, two-thirds were composed on commission and most of these through the assistance of the Canada Council. By no means all of the applicants are awarded grants. In 1999 the success rate was approximately 1 commissioning grant awarded for every 4.5 applications. Furthermore, all orchestras that receive operating grants from the council are urged to devote a portion of their programming to the performance of Canadian music. Provincial arts councils also make funds available for the commissioning of Canadian compositions.
Postwar Composition in Canada
 Postwar composition in Canada has best been described as eclectic. One of the most influential composers is John Weinzweig. Born in Toronto in 1913, Weinzweig is credited with bringing the 12-tone technique to Canada. Among his students at the University of Toronto were Harry
SOMERS
, John
BECKWITH
, Samuel Dolin, Murray
ADASKIN
, Norma
BEECROFT
, Harry
FREEDMAN
and John Fodi, all of whom became well-respected composers. The next "generation" of composers included Pierre
MERCURE
, Serge
GARANT
, Bruce
MATHER
, Gilles
TREMBLAY
, Robert
AITKEN
, Barbara
PENTLAND
, Istvan
ANHLAT
, Otto
JOACHIM
and R. Murray
SCHAFER
(who was also a student of Weinzweig). Alexander
BROTT
had the distinction in 1985 of having written more performed orchestral works than any other Canadian composer. Roger
MATTON
, Clermont
PÉPIN
and André
PRÉVOST
also made significant contributions to the Canadian orchestral repertoire.
 With well-established orchestras throughout the country and organizations and agencies existing to assist the arts and composers, the number of works composed for orchestras increased dramatically. The CMC's 1976 Catalogue of Canadian Music for Orchestra together with its 1979 Supplement lists more than 1000 works by 145 composers. By the end of 1999, the CMC listed 509 Associate Composers. At that time their catalogued works included 950 titles for full orchestra, 329 for chamber orchestra, 498 for full orchestra and soloist(s) and 221 for string orchestra and soloist(s) for a total of almost 2000. In 1999, 234 Canadian composers were current members of the League of Canadian Composers.
Composers-in-Residence
 The increase in Canadian orchestral music is due, in part, to the fact that a growing number of Canadian orchestras have begun employing "composers in residence." Harry Freedman became the first composer-in-residence at the Toronto Symphony in 1940. During the 1980s and 1990s many other Canadian orchestras were making similar commitments to promoting the new music of their Canadian composers. The WINNIPEG SYMPHONY ORCHESTRA appointed Glenn BUHR as that orchestra's first composer-in-residence in 1991. He worked with Music Director Bramwell Tovey to create the du Maurier New Music festival, an annual festival of contemporary music that premiered in 1992. In 1996 Buhr inaugurated the position of Artist Laureate, and Winnipeg composer Randolph Peters became composer-in-residence.
The EDMONTON SYMPHONY ORCHESTRA welcomed John Estacio as its first composer-in-residence in 1992. His responsibilities included organizing the orchestra's "Made in Canada" festival, writing specific commissioned works for the ESO, and sitting on the programming committee, where he was expected to incorporate more Canadian music into the orchestra's educational concerts.
In 1995, the TORONTO SYMPHONY ORCHESTRA appointed Gary KULESHA as the orchestra's composer advisor to work with Music Director Jukka-Pekka Saraste on creating a plan for the development of Canadian music to the year 2000.
Today, composer-in-residence programs are flourishing at many Canadian orchestras, thanks in large part to the support of the Canada Council. Organizations that have employed at least one Canada Council funded Composer-in-Residence within the 3-year-period beginning in 1997 include the Canadian Opera Company, Edmonton Symphony/Pro Coro Canada, Symphony Nova Scotia, Vancouver Symphony Orchestra, Toronto Symphony Orchestra, Kitchener-Waterloo Symphony Orchestra, Saskatoon Symphony Orchestra, Vancouver Chinese Music Ensemble and the Winnipeg Symphony Orchestra.
In recent years, younger Canadian composers of orchestra music tend to make their living in the performing arts and other music-related fields, rather than as university employees, which was a common profession of their older colleagues. A variety of contests exist to encourage emerging and established composers directly and indirectly, including the CBC National Competition for Young Composers, SOCAN Young Composer Competition, the du Maurier Canadian Composers Competition, the Eckhardt-Gramatté Competition, the Juno awards and many others. The Canadian League of Composers awards an annual $1000 prize in recognition of support given to Canadian music. The league works closely with the Canadian Music Centre in selecting a recipient for this award, which in 1999 was renamed the "Friend of Canadian Music Award."
The result is that Canada has a wealth of talented composers who create works for orchestras, including an increasing number of women composers, such as Alexina LOUIE, Heather-Anne Schmidt and Linda C. Smith. Many are being recognized internationally as well.