Hailed as a landmark film upon its release, Don Shebib's first feature film is widely recognized as marking the beginning of the film industry in English Canada. An unflinchingly realist and unsentimental portrait of two Maritimers trying and failing to make it in the big city, it won three Canadian Film Awards — Best Original Screenplay, Best Feature Film and Best Lead Actor (shared by Doug McGrath and Paul Bradley) — and is consistently regarded as one of the best Canadian films of all time. In 2016, it was named one of 150 essential works in Canadian cinema history in a poll conducted by the Toronto International Film Festival (TIFF).
Synopsis
Goin' Down the Road follows the amusing yet poignant exploits of Pete (Doug McGrath) and Joey (Paul Bradley), two unemployed Maritimers on their way to Toronto to seek their fortune. When the prestigious jobs they expected do not materialize, they are forced to work in menial, low-paying jobs in a bottle factory and a carwash. Joey gets a waitress pregnant, marries her and moves into an apartment with furniture bought on credit. Meanwhile, Pete has higher ambitions which also go unrewarded. When their seasonal jobs disappear, they are forced to move in together. Desperate, they decide to rob a store at Christmas. After botching this job too, they decide in desperation to head west.
Background
A veteran documentary filmmaker who had worked at the CBC, Shebib originally conceived the film as an hour-long documentary about the labour migration from Atlantic Canada to Ontario in the decades following the Second World War. "It was really based on an experience of my cousin on my father's side of the family… who came up to Toronto when I was still in college and stayed with us for a month or so," Shebib said in a 1978 interview. "He ran into the same story as those guys right down the line. The film was based upon that experience of observing him."
After failing to develop the documentary, Shebib began collaborating with screenwriter William Fruet, a colleague on CBC's The Way It Is, and from there the script evolved into a dramatic feature. It was shot by cinematographer Richard Leiterman, a key player in the documentary revolution taking place in the 1960s, having photographed numerous documentaries, including Allan King's A Married Couple (1969). The three-person crew, consisting of Shebib, Leiterman and soundman James McCarthy, shot the film on 16mm with a $19,000 grant from the fledgling Canadian Film Development Corporation (CFDC, now Telefilm Canada). The total budget was around $85,000.
Analysis
The film takes as its theme the path westwards that Maritimers have historically taken — first to Toronto, the centre of English Canada, and then "out west" — as a source of cheap migrant labour. Documentary authenticity, social realism and artistic sensitivity fuse with Shebib's ongoing filmic pre-occupation with the subject of male friendship and male bonding.
Pete and Joey, the film's offbeat, working-class protagonists, fit into the tradition of buddy/loser road movies released in North America after the phenomenal success of Easy Rider (1969). However, the uncanny precision with which they embody a dilemma in which many English Canadians find themselves — how to construct a national identity from an acute awareness of regionalism, class diversity and marginality — link them inextricably with the Canadian experience.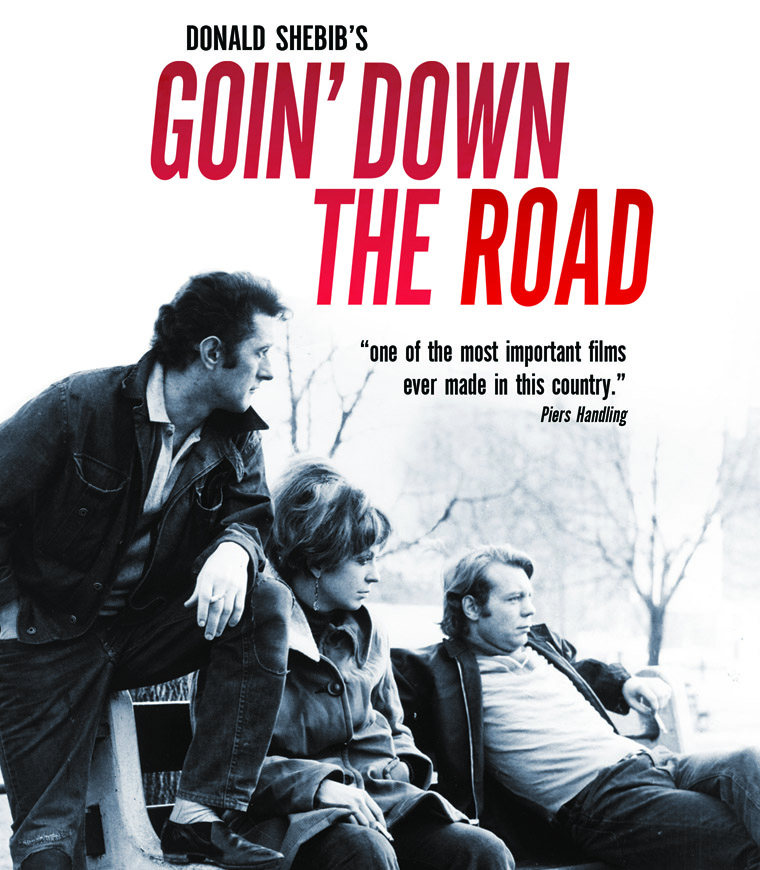 In her review, the New Yorker's Pauline Kael wrote, "there is scarcely a false touch in Goin' Down the Road; Don Shebib is so good at blending actors into locations that at times\u2026 one forgets that it is an acted film."
Critical Reception
Critically acclaimed in both Canada and the United States, the film drew comparisons to Easy Rider (1969) and Midnight Cowboy (1969), and was praised for its authentic sense of documentary realism. Canadian critics everywhere welcomed it as the first great Canadian movie. The Montréal Gazette called it "A superb movie, the finest Canadian effort ever, and excellent by any standards." The Vancouver Sun praised it as "A human piece of fiction taken from life and put on the screen unemotionally, truthfully, and seething with an inner conflict that motivates the plot and the people in it."
Calling it "the best movie to hit town in a long time," Roger Ebert wrote that "the film's special accomplishment is its treatment of the characters and the city itself with an absolutely unsentimental level-headedness." He also felt that the film "achieves a documentary objectivity that touches us more deeply than tear jerking could." And American film critic Pauline Kael wrote, "There is scarcely a false touch. Shebib is so good at blending actors into locations that at times one forgets that it is an acted film."
Honours and Legacy
Hailed as a landmark film upon its release, Goin' Down the Road has long been regarded as one of the best Canadian films ever made. It placed in the top three of the Top 10 Canadian films of all time lists compiled by TIFF in 1984, 1993 and 2004, and was ranked No. 6 in 2015. In 2016, it was named one of 150 essential works in Canadian cinema history in a poll of 200 media professionals conducted by TIFF, Library and Archives Canada, the Cinémathèque québécoise and The Cinematheque in Vancouver in anticipation of the Canada 150 celebrations in 2017.
In 1992, Goin' Down the Road was selected as one of seven fiction films shown at the National Gallery to celebrate the 25th anniversary of Telefilm Canada, and in 1996 it was one of 10 films honoured with postage stamps by Canada Post to commemorate 100 years of cinema in Canada. It was recognized as a Masterwork by the AV Preservation Trust in 2000, and was voted the fifth-best Canadian film of all time in a Playback readers' poll in 2002.
Sequel
A sequel to Goin' Down the Road, Down the Road Again (2011), was written by Shebib in 2008 and filmed in 2010. It reunites some of the original cast, including Doug McGrath as Pete, Jayne Eastwood as Joey's wife, Betty, and Cayle Chernin as her friend, Selina. Reportedly spearheaded by Chernin, who died of cancer shortly after the film was completed, the film follows Pete as he learns of Joey's death and is tasked with driving his ashes, and his daughter, Betty-Jo (Kathleen Robertson), from Toronto to Cape Breton.
See also: Canadian Feature Films.
Awards
Original Screenplay – Feature, Canadian Film Awards (1970)
Performance by a Lead Actor – Feature (Doug McGrath, Paul Bradley), Canadian Film Awards (1970)
Feature Film, Canadian Film Awards (1970)