Denis Shapovalov, tennis player (born 15 April 1999 in Tel Aviv, Israel). Denis Shapovalov is a Canadian professional
tennis
player. A former Grand Slam winner on the junior circuit (Wimbledon, 2016), he rose more than 200 spots on the Association of Tennis Professionals (ATP) tour in his first full year on tour in 2017, earning the
Lionel Conacher Award
as Canada's male athlete of the year. In 2018, at the age of 19, he cracked the Top 30 of the world rankings — the youngest player to do so since 2005. That same year, former world No. 1 player John McEnroe called Shapovalov "the future of our sport." On 1 April 2019, he became the only teenager ranked inside the Top 20. 
Playing doubles with Daniel Nestor at the Fever-Tree Championships, Queen's Club, June 2018.
Early Life and Family
Denis Shapovalov's parents were both born and raised in the Soviet Union before immigrating to Israel in the 1990s. Denis was born in Tel Aviv but moved with his family to Richmond Hill, Ontario, when he was nine months old. His mother, Tessa Shapovalova, was a professional tennis player in the Soviet Union and made her Women's Tennis Association (WTA) debut on 3 April 1995. She was Denis's earliest coach, beginning his training at age five. She also spent 10 years as a coach at the Richmond Hill Country Club before opening her own tennis academy in Vaughan, Ontario. Shapovalov has an older brother, Evgeniy, who was also born in Israel.
Junior Career
It didn't take long for Denis Shapovalov to make his presence felt in the sport of tennis. Playing on the International Tennis Federation (ITF) junior circuit, he took home his first junior title on 26 October 2013 at the age of 14, winning the Ace Tennis U18 ITF Canadian World Ranking Event tournament in Burlington, Ontario. He went on to amass an 86–32 singles match record as a junior, including his first tournament titles outside of Canada at the 2014 Copa Cariari in San José, Costa Rica, where he won in both singles and doubles, teaming up with fellow Canadian Alexis Galarneau.
After rising more than 100 spots in the ITF junior rankings, a 15-year-old Shapovalov was named Tennis Canada's 2014 Junior Male Player of the Year. In 2015, he captured the U18 Rogers Indoor Junior National Tennis Championships, but his greatest success as a junior came on tennis's biggest stages. At the 2015 US Open junior tournament in New York, Shapovalov and countryman Felix Auger-Aliassime teamed up to win the doubles draw, becoming just the 10th and 11th Canadians to win a junior Grand Slam title and the first all-Canadian duo to do it since 1990.
In 2016, following a semifinals appearance at the French Open, a 17-year-old Shapovalov entered the Wimbledon junior draw seeded fifth in singles. He won his first four matches, setting up a semifinal contest against No. 1 seed Stefanos Tsitsipas of Greece. After losing the first set, Shapovalov rallied back to take the match 4–6, 7–6 (5), 6–2. In the finals, after again dropping the first set, he rallied back to win the final two sets and beat Australia's Alex de Minaur 4–6, 6–1, 6–3 for his 12th consecutive match victory. In the process, Shapovalov became just the third Canadian junior to win a Grand Slam singles title, joining Eugenie Bouchard (2012, Wimbledon) and Filip Peliwo (2012, Wimbledon and US Open).
In that same tournament, Shapovalov and Auger-Aliassime were doubles partners once again and reached the finals. Hours after being crowned the singles champion, Shapovalov took the court once more, this time losing in three sets. Following his incredible year, he was named Tennis Canada's Junior Male Player of the Year for the second time in 2016, this time sharing the title with Auger-Aliassime.
Playing style and influences
Despite his relatively unintimidating stature — he is listed variously at 6'0" (183 cm) or 6'1" (185 cm), with a weight of 165 pounds (75 kg) — Shapovalov boasts booming groundstrokes and a one-handed backhand reminiscent of that of his idol, Roger Federer.
"It's very unorthodox," Shapovalov, who is left-handed, has said of his playing style. "You know, having a one-hander [backhand], pretty powerful, big shots from both wings. I feel like my whole game throws people off. I just feel like there's not many players on tour that can really hit bigger than me."
Davis Cups
On 4 October 2015, Shapovalov led Canada to its first ever Davis Cup junior title. As his professional career took off, Shapovalov continued to represent Canada at the Davis Cup. On 18 September 2016, a 17-year-old Shapovalov registered a win against Chile's Christian Garin in Halifax, Nova Scotia.
In his next Davis Cup appearance for Canada in February 2017, Shapovalov was disqualified from his match against Great Britain. Trailing two sets to none, during the third set he hit a ball into the stands in frustration and it hit the chair umpire. Shapovalov was fined US$7,000 for the incident, as Canada lost the World Group first-round event 3–2.
2016 Rogers Cup
Shapovalov parlayed his junior Wimbledon success into a wild-card entry to the Rogers Cup in Toronto, his first 1000-level event on the ATP circuit (the highest level of professional men's tennis except the Grand Slams). He made his debut in the opening round on 25 July 2016. Ranked 370th on the ATP Tour, Shapovalov's first test came against 19th-ranked Nick Kyrgios of Australia. In front of a supportive hometown crowd, Shapovalov pulled off the upset and beat Kyrgios in three sets before bowing out to 40th-ranked Grigor Dimitrov in round two.   
"I think Denis has a very bright future," Milos Raonic, the highest-ranked Canadian singles player, said after Shapovalov's win over Kyrgios. "He is much further on in his development than I was at his age."
2017 Rogers Cup
Shapovalov's biggest breakout came at the same event the following year. He entered the 2017 edition of the Rogers Cup — held in Montreal, Quebec — on a roll, having appeared in one ITF final and two ATP Challenger Tour finals earlier in the year, winning one of each. But he was still relatively unproven at the ATP level and ranked 143rd in the world at the outset of the tournament. A wild-card entry once more, Shapovalov won his first-round match on 8 August 2017, setting up a match against 2009 US Open champion and 2016 Olympic silver medalist Juan Martin del Potro of Argentina in round two.  
Shapovalov, 18 years old at the time, played like a seasoned veteran and won the first set convincingly, 6–3. In the second set he won the tiebreaker, 7–6 (4), earning the biggest victory of his career to that point. "First of all, just to play against him, it's a huge honour for me," Shapovalov said after the match. "But to beat a player of this category, of this talent, it's very inspiring and a huge confidence boost."
In his next match, Shapovalov faced Rafael Nadal of Spain, who at the time was a 15-time Grand Slam singles winner ranked No. 2 in the world. Separated by more than 140 spots in the rankings, Shapovalov held his own early, dropping the first set 3–6 but roaring back to win the second set 6-4. With the likes of Wayne Gretzky and Penny Oleksiak cheering on the Canadian teen from the stands, Shapovalov and Nadal went toe-to-toe and a tiebreaker was needed to determine the winner. Leading 6–4 and needing seven points to win, Shapovalov exchanged several groundstrokes with Nadal on match point before hitting a booming forehand down the line and well out of reach of the Spaniard's racquet, sealing the victory, 3–6, 6–4, 7–6 (4).
Shapovalov advanced past France's Adrian Mannarino in the quarter-finals (2–6, 6–3, 6–4) in another three-set, come-from-behind win to earn a berth in the semifinals. In the process, Shapovalov became the youngest player to ever reach a Master Series semifinal and the lowest-ranked semifinalist in 14 years. Although he lost the semifinal match to the eventual champion, Alexander Zverev, Shapovalov made a name for himself. In the span of just one week, his world ranking rose more than 75 spots to No. 67.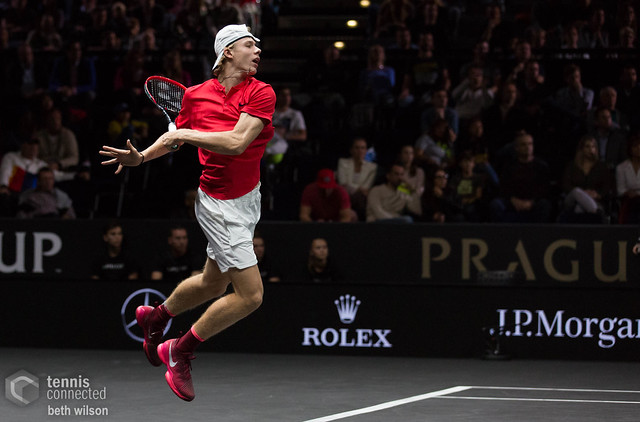 Denis Shapovalov plays on the first day of the 2017 Laver Cup in Prague, Czech Republic.
2017–18 Tournaments and Rankings
Shapovalov's 2017 Rogers Cup performance earned him an opportunity to qualify for the main draw of the 2017 US Open, where his hot streak continued. In the second round, the unseeded Shapovalov faced No. 8 seed Jo-Wilfried Tsonga of France. Shapovalov earned a three-set sweep of the former Grand Slam finalist before being eliminated in the fourth round, making him the youngest player to advance that far in the tournament since former Grand Slam winner Michael Chang in 1989.
On 23 October 2017, the 18-year-old Shapovalov reached No. 49 in the world rankings — the youngest player in the ATP Top 100. He was named the 2017 ATP Most Improved Player and Tennis Canada's Male Player of the Year. On 26 December, Shapovalov won the Lionel Conacher Award, given by the Canadian Press to the nation's top male athlete of the year, edging out NHL superstar Sidney Crosby by one vote.
Shapovalov's upward trajectory continued in 2018, with legends of the sport taking notice. During the 2018 Australian Open, former world No. 1 John McEnroe called the Canadian teen "the future of our sport." On 14 September 2018, Shapovalov helped Canada reach the World Group stage in the Davis Cup with a dramatic five-set comeback win over the Netherland's Robin Haase in Toronto. Shapovalov closed out the 2018 season ranked inside the Top 30. On 1 April 2019, following a semifinal appearance at the Miami Open, a 19-year-old Shapovalov reached a career-high world ranking of 20.
Awards
Junior Male Player of the Year, Tennis Canada (2014)
Junior Male Player of the Year (shared with Felix Auger-Aliassime), Tennis Canada (2016)
Most Improved Player, Association of Tennis Professionals (2017)
Male Player of the Year, Tennis Canada (2017)
Lionel Conacher Award (2017)