Sport literature became prominent in Britain and North America during the late-19th century. Charles Gordon's Glengarry School Days (1902) became a prototype for Canadian sport fiction authors such as Leslie McFarlane and Scott Young, who popularized the form in the mid-20th century. Roch Carrier's "The Hockey Sweater" (1979) and Roy MacGregor's The Last Season (1983) helped to establish hockey as the central focus of Canadian sport literature, while the work of W.P. Kinsella, George Bowering and W.O. Mitchell brought other sports into the spotlight. Meanwhile, authors such as Priscila Uppal, Angie Abdou, Samantha Warwick and Arley McNeney have challenged male dominance in the genre by depicting female athleticism as normal and natural.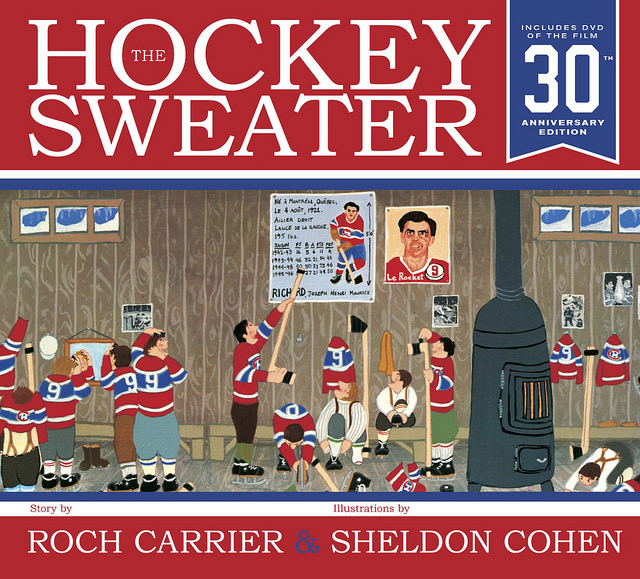 The Hockey Sweater: 30th Anniversary Edition.
Background
Sport literature, principally fiction, became prominent in Britain and North America during the late-19th century, mainly by way of school stories and pulp novels modelled on the English author Thomas Hughes' popular Tom Brown's School Days (1857). These stories typically portrayed sports as a proving ground where boys become men by learning important moral lessons such as hard work, perseverance, fair play and self-sacrifice (see also Children's Literature in English).
Early Sport Literature in Canada
Although British and American sport stories circulated widely in Canada during the late-19th century, the first Canadian story in this genre was Glengarry School Days (1902) by Charles Gordon (pseudonym of Ralph Connor), which depicts a young boy learning moral lessons from playing hockey. Glengarry School Days became a model for later sport fiction by Canadian authors such as Leslie McFarlane and Scott Young (father of Neil Young) throughout the 1940s, '50s, and '60s. McFarlane in particular believed it was important to produce distinctively Canadian sport fiction in order to set the nation apart from Britain and the United States, and to provide young Canadian readers with homegrown role models.
Hockey Stories
In part because of this nationalistic impulse, many Canadian sport stories throughout the 20th century have focused on hockey, a game that is internationally recognized to have a unique and iconic status in Canadian society (see also Hockey: Canada's Game). Few stories have exemplified Canada's near-religious relationship to the game more endearingly than Roch Carrier's "The Hockey Sweater" (1979). Based on an experience from Carrier's childhood and adapted into a beloved animated short film by the National Film Board, "The Hockey Sweater" depicts the furor that follows the delivery of a Toronto Maple Leafs sweater to Carrier's home in Sainte-Justine, Québec, a bastion of support for Maurice "Rocket" Richard and the Montréal Canadiens. Carrier later returned to the topic of his childhood adulation for "Rocket" Richard, and the influence of Richard on Québec hockey culture and political culture, in his book Our Life with the Rocket (2001). A large number of children's hockey novels have been published since "The Hockey Sweater," including Roy MacGregor's Screech Owls series and Gordon Korman's Slapshots series.

Roch Carrier in his hometown of Sainte-Justine, Quebec, in 1947.
Although not the first novel of its kind, the success of Roy MacGregor's The Last Season (1983) essentially created a new Canadian genre: the adult-oriented hockey novel. More than 30 such novels were published in the ensuing decades; by the late 2000s, the genre had achieved enough popularity and acceptance that one of these, Paul Quarrington's King Leary (1987), won the CBC's Canada Reads competition in 2008. Many adult-oriented hockey novels reinforce traditional ideas about the game's place in Canadian society and the rough-and-ready version of masculinity it puts forward. Some of these novels, such as King Leary, Wayne Johnston's The Divine Ryans (1990), Mark Anthony Jarman's Salvage King, Ya! (1997) and Bill Gaston's The Good Body (2000) use literary devices such as irony and ambiguity to complicate these issues. Others, such as Cara Hedley's Twenty Miles (2007) and Lynn Coady's The Antagonist (2011), challenge them explicitly, as does Tomson Highway's tragi-comic stage play Dry Lips Oughta Move to Kapuskasing (1989), which follows a group of men on a reserve who unite in opposition to a women's hockey team. Jason Blake's Canadian Hockey Literature (2010) offers an incisive examination of hockey in Canadian fiction through an analysis of five central themes: nationhood, the hockey dream, violence, national identity and family.
Several books of hockey-themed poetry were published during the 1990s and 2000s, such as John B. Lee's The Hockey Player Sonnets (1991), Richard Harrison's Hero of the Play (1994), Matt Robinson's no cage contains a stare that well (2005) and Randall Maggs's Night Work: The Sawchuk Poems (2008).
Baseball Stories
Canadian sport literature, however, hasn't been limited to hockey. In fact, the most well-known sport novel by a Canadian author is W.P. Kinsella's Shoeless Joe (1982). Adapted into the hit Hollywood movie Field of Dreams (1989), it portrays baseball as a magical experience and situates the game in a distinctively American pastoral tradition. Kinsella's The Iowa Baseball Confederacy (1986) delves further into American baseball mysticism, and Steven Hayward's The Secret Mitzvah of Lucio Burke (2005) explores the idea of baseball as a magical experience in the Canadian context of Toronto's 1933 Christie Pits riot. A number of children's baseball novels have also been published, including Martyn Godfrey's Baseball Crazy (1987) and Michael Kusugak's Baseball Bats for Christmas (1990).
In his books of stories and novels, Kinsella has created two quite disparate fictional universes.
Canadian baseball poetry has also been somewhat invested in mythologizing the game, though the most noteworthy example from this field, George Bowering's "Elegy Five" from the Kerrisdale Elegies (1984), is both romantic and realistic in its approach. Exploring universal themes of loss and mourning, as well as the Canadian poet's place within the Eurocentric literary canon, the poems retain a close connection to the ordinary. The last lines of the Kerrisdale Elegies famously encapsulate this paradox: "The single events that raise our eyes and stop our time / are saying goodbye, lover, / goodbye."
Other Sports Stories
Canadian novels have covered a wide range of athletic experience, beyond the traditional sport literature mainstays of hockey and baseball. For example, in W.O. Mitchell's novel The Black Bonspiel of Willie MacCrimmon (1993), the hero and his friends play a game of curling against the devil and his rink. In 1991, Roch Carrier published The Boxing Champion, a sequel to "The Hockey Sweater." Children's fiction has covered many sports, including skateboarding (e.g., Lesley Choyce's Skateboard Shakedown, 1989), horseback riding (e.g., Jan Truss's Summer Goes Riding, 1987), dogsledding (e.g., Don Meredith's Dog Runner, 1989) and skiing (e.g., Sharon Siamon's Ski for Your Mountain, 1983).
Canadian sport poetry also began to branch out from hockey and baseball during the early 2000s. The most prominent example of this trend is Priscila Uppal, who served as poet-in-residence during the 2010 Olympic Winter Games and Paralympics in Vancouver, which resulted in her Winter Sport: Poems (2010).
Women's Sports Stories
While sports have historically been seen as a male domain, a number of notable novels written by women implicitly challenge male dominance by depicting female athleticism as normal and natural. Angie Abdou's The Bone Cage (2007), a Canada Reads finalist in 2011, follows two Olympic athletes, a swimmer and a wrestler, through their training, and ultimately explores the sense of loss such athletes experience when they can no longer compete at elite levels. Samantha Warwick's Sage Island (2008) depicts swimming as the means by which a young woman discovers her personal identity, and Arley McNeney's Post (2007) explores the end-of-career feelings of a player on the women's national wheelchair basketball team. Abdou, who has been described as a "sport-life" writer, then turned her attention to skiing, snowboarding and snowmobiling in The Canterbury Trail (2011), which depicts a storytelling contest between a group of backcountry enthusiasts looking for a final adventure before spring.